The International Association for Biological Oceanography is an international non-governmental non-profit organization. IABO is a constituent Section of the International Union of Biological Sciences and thus subject to those articles of the Statutes and Byelaws of the Union that apply to Sections, and also to the following Statutes.
IABO supports the planning of World Conference of Marine Biodiversity (WCMB) meetings. Learn about the 2020 WCMB conference.
The next General Assembly of IABO will be held during the
6th World Conference on Marine Biodiversity (WCMB 2023) in Penang, Malaysia. This event will be hosted by the Centre for Marine & Coastal Studies of Universiti Sains Malaysian (

CEMACS - USM)

.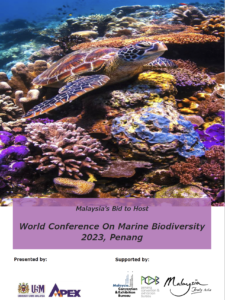 IABO disseminates professional and research opportunities, and information about scientific events through the MARINE-B email list.

MARINE-B

, the MArine Research Information NEtwork on Biodiversity, is for communication related to marine biodiversity research. From 2010 it is the official email network of the IABO. The archive of list messages is available here.
To join send message "SUBSCRIBE 

MARINE-B

 firstname surname" to listserv@listserv.heanet.ie 
Graham Edgar receives 2019 Carlo Heip Excellence Medal from Mark Costello at the WCMB V!